Vaccaro Law provides personalized, client-centered representation for crash victims and their families to deliver maximum compensation, payment of medical bills, and consequences for those who caused the harm. We are a mission-based law firm dedicated to vulnerable road users–cyclists, pedestrians, ebike and scooter users. We do not represent drivers, and were featured by the New York Law Journal as "New York's best-known lawyer advocate for bicyclist and pedestrian rights." We also represent crash victims in northern New Jersey.
Vaccaro Law delivers value on top of cash compensation by winning no-fault benefits to pay your medical bills and lost earnings. When called for, we go beyond the insurance coverage and make drivers pay from their personal assets, and by taking their driving privileges. Learn more by watching client video testimonials and reading posts about our work for people just like you: Bob Nelson, Hsi-Pei Liao, Amy Cohen, and others whose lives were torn by traffic violence.
Too often crash victims are told, "accidents happen," as if they had been struck by lightning. We reject that clichè. Telling a crash victim that "accidents happen" takes the blame off the driver, minimizes the harm done, and reduces a person to a statistic. At Vaccaro Law, we thoroughly investigate how the crash happened, and all the ways your injuries affect you. We then work creatively to win compensation equal to the harm — even if the defendant or the police blame you, even if the driver fled the scene or has too little or no insurance, and even if other challenges make a quick settlement impossible. We aren't afraid of hard cases.
Our work doesn't end there. Since 2006, we have helped lead the movement to make streets safer for walking and biking. Through impactful litigation and advocacy for government reform, we aim to reduce the number of people who need of our services. We also provide substantial legal and financial support to victims' rights groups and other organizations that fight to end the epidemic of traffic violence on our streets, such as Families for Safe Streets, Bike New York, New Jersey Bike Walk Coalition, Transportation Alternatives, StreetsPAC, and the New York Cycle Club.
Contact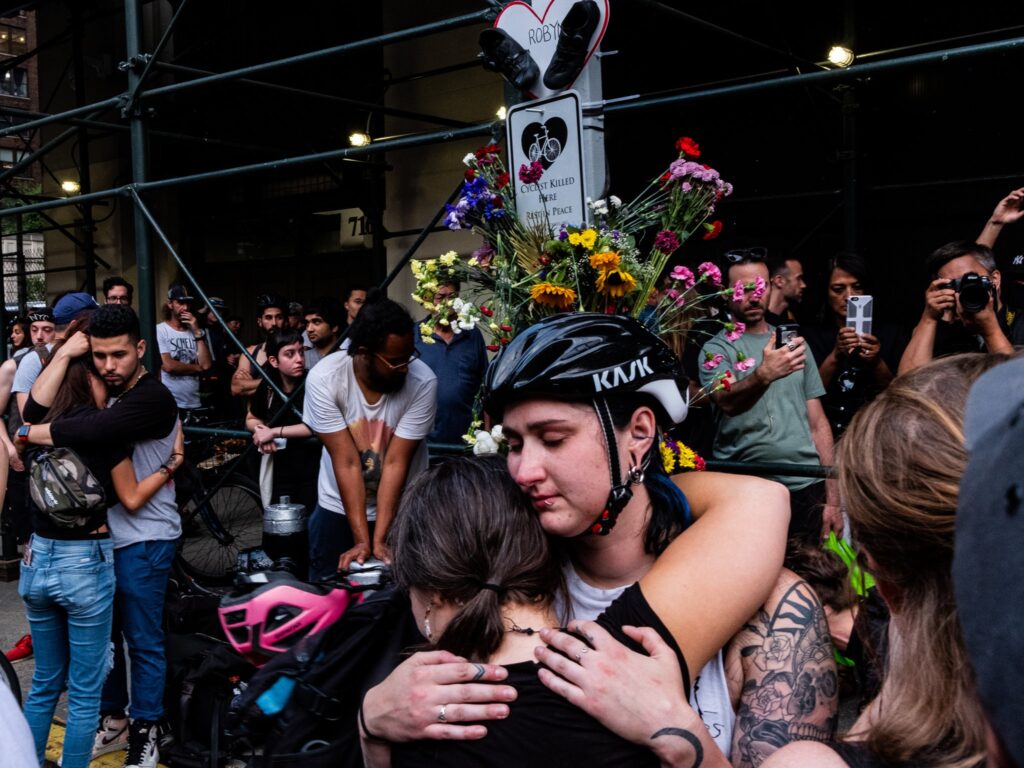 Mourners at the Street Memorial for slain cyclist Robyn Hightman. When police blamed Robyn for their own death, our investigation proved that negligence by both a taxi driver and a truck driver had combined to cause their death. We won compensation from both defendants, enlisted Robyn's mother in a successful legislative effort to increase oversight of NYPD crash investigations.